I'm not a huge believer in "old wives tales" so throughout most of my pregnancy when I was reading about foods that help kickstart labor I mostly just rolled my eyes and ignored it.
However, the rounder closer to my due date that I got.. the more I started to think it couldn't hurt to try..
Here are some of the (allegedly labor inducing) foods that I ate during this last week of pregnancy..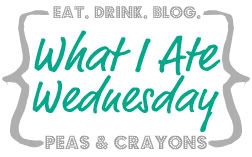 I've been all about the eggplant, basil, oregano, and spicy food. Sometimes all at once

Pretty darn delicious if I do say so myself. =p
I would be happy to eat grilled chicken just about every day. I used plenty of cajun seasoning for spicy reasons.
Sunday night we had turkey burgers, which completely fell apart on the grill. (still good) I topped mine with grilled peppers and avocado; no mustard this time.
Speaking of avocado.. There was that one amazing sandwich I had for lunch.
That cheese..
That EGG..
I have now heard that
chocolate
can bring on labor. Probably an excuse to eat chocolate? Yep. Did I still try it.
Yep
. I made
double chocolate cocoa melts
(Thanks Brittany!!!!) So good! I used peanut butter because I had just bought a pricey jar of it and refused to go the next day and buy almond butter. I'm not sure how much this changed the flavor but I thought they tasted like no bake cookies, just with a different texture.
I'm not sure who grabs one more often; me or Steven. Sooo addicting, and I swear they get better every time I eat one.
Then there was that day I ate mac n cheese in my bed.. (with plenty of added hot sauce, of course)
There is a reason I don't make biscuits and gravy very often.. I cannot control myself around biscuits and gravy. Like at all. These don't put people into labor.. but they were too yummy to not share.
Late night snacks...
Coconut Chobani with Kind Blueberry Vanilla Granola and shredded coconut.
And of course, the fruit snacking continues.
So pretty much, I've been eating these so called labor kick starters for a week and so far.. no go. I was sure if anything would work it would be this shockingly spicy chile relleno I had at lunch on Monday. Nope! I have had a few contractions but they are mostly weak and irregular.
It doesn't matter since my Dr. is evicting her on Friday regardless, but I can't say I'd mind meeting this nugget a little bit sooner.
What's the best thing you've eaten this week?
Do you believe in old wives' tales?
Tried any new recipes lately?