Hi I'm Kadee and I specialize in disappearing from blog-land for weeks at a time. Sorry!! I promise I do plan to do other things besides
What I Ate Wednesday
; I've got loads of half finished drafts going on, but lately I've been particularly busy with a certain little nugget of mine.
No really, she an actual nugget these days. Look at dem CHEEKS!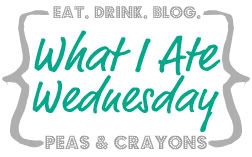 I thought I would try the whole "warm lemon water"as soon as you wake up thing out because of all the benefits of it that people are constantly preaching. I can drink cold lemon water all day long, but for some reason when it's warm I couldn't hate it more. (lies.. Mothers Milk tea was so much worse) I thought I might gag, but I did it. I will say I immediately felt more awake. Also I'm not sure if it was the cause but my "system"was definitely moving if ya catch my drift..
After that fiasco I had some coffee and my most typical breakfast: an egg on toast with a slice of cheese, but added some bacon for running motivation. (pff like I need a reason for bacon)
My lunch was the most perfectly balanced plate of all time in my opinion. Half Annie's mac n cheese half veggies. (and my usual blob of hot sauce) So. Dang. Good. It's kind of like getting to eat my Mom's broccoli cheese casserole without it even being Thanksgiving.
About 5pm I got HANGRY and built a masterpiece of a snack creation
Greek yogurt, frozen raspberries, Kind granola, shredded coconut, almonds, and extra flax seeds. In the words of Bruce (Almighty) "It's gewd"
If only my dinner looked as exciting as it actually was..
Chicken and pepper fajitas with guacamole, salsa, and refried beans. At almost 10pm. I really need to figure out a new dinner system. I usually start getting Emma ready for bed around 8 and then Steven takes over and feeds her and lays her down while I get dinner started, but we are eating so late that I feel like by the time we have dinner and watch one recorded episode of Jimmy Fallon it's about time to get ready for bed. (part of why I haven't been posting) Half the time we end up having whatever I can throw together the fastest, or else in the crockpot. Sigh..
I also take a little time throughout every day to munch on this belleh!
I mean.. how cute is that??
What's the best thing you've eaten this week?
What's your go to quick/easy dinner?
What epic snacks do you make?