Probably my new motto.
My blog is in serious need of some refreshing. It's been on my mind for a while. More than anything I need a new name. I never intended to stay "Kadee-Cat"; it was just something a few people I used to work with called me. I had been reading blogs for months and feeling the itch to start my own, but kept putting it off because I couldn't think of anything to call it. Finally I got so sick of waiting that I just threw something up there. The problem is that I
still
can't think of anything! I am constantly seeing such clever names and I am really struggling to come up with my own. I'm thinking something like "Diary of a Reformed Veggie Hater" is appropriate, but probably too long. Most of the time when I think of something good, it reminds me too much of something I've ever seen. Sighh, the struggle.
Something that's never going to change is how much I love talking about food! So let's get onto What I Ate Wednesday!!!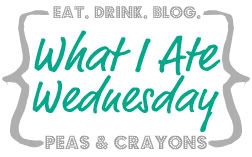 Check Out Peas & Crayons!
I'm going to break the rules a little bit this week. I didn't do a good job of getting pictures of my food yesterday so I'm gonna just throw in any pictures I had from the week:
Steven grilled chicken last night and I made some stuffed peppers with turkey bacon. I mixed some homemade ranch (made with greek yogurt) with light cream cheese and sharp cheddar. I haven't made these in forever and they were sooo good. I used jalapeños and mini red peppers this time; both were uhh-mazinig.
Speaking of uhh-mazing, we went to my Mom's house Sunday night for some fabulous lasagna and then she sent us home with a whole pan of it. We had it for dinner the next night (with basil that I grew!) but I'm freezing the rest for later.
As usual we had to have some turkey tacos. I always make them in a "ugh I forgot to take out something to thaw I guess we'll have tacos" way, and then they always end up being really good. :)
And of course there was Friday night, our anniversary. Our first date since Emma was born. We went out for sushi, and Steven actually tried mine (he spit it out.. haha!)
I had some coconut water, which was super strong and a little weird, but good. It got better the more the ice melted.
What's the best thing you've eaten this week?
What's your go-to easy dinner when you forget to plan?
Anyone feel like renaming my blog? ;P (no seriously..)